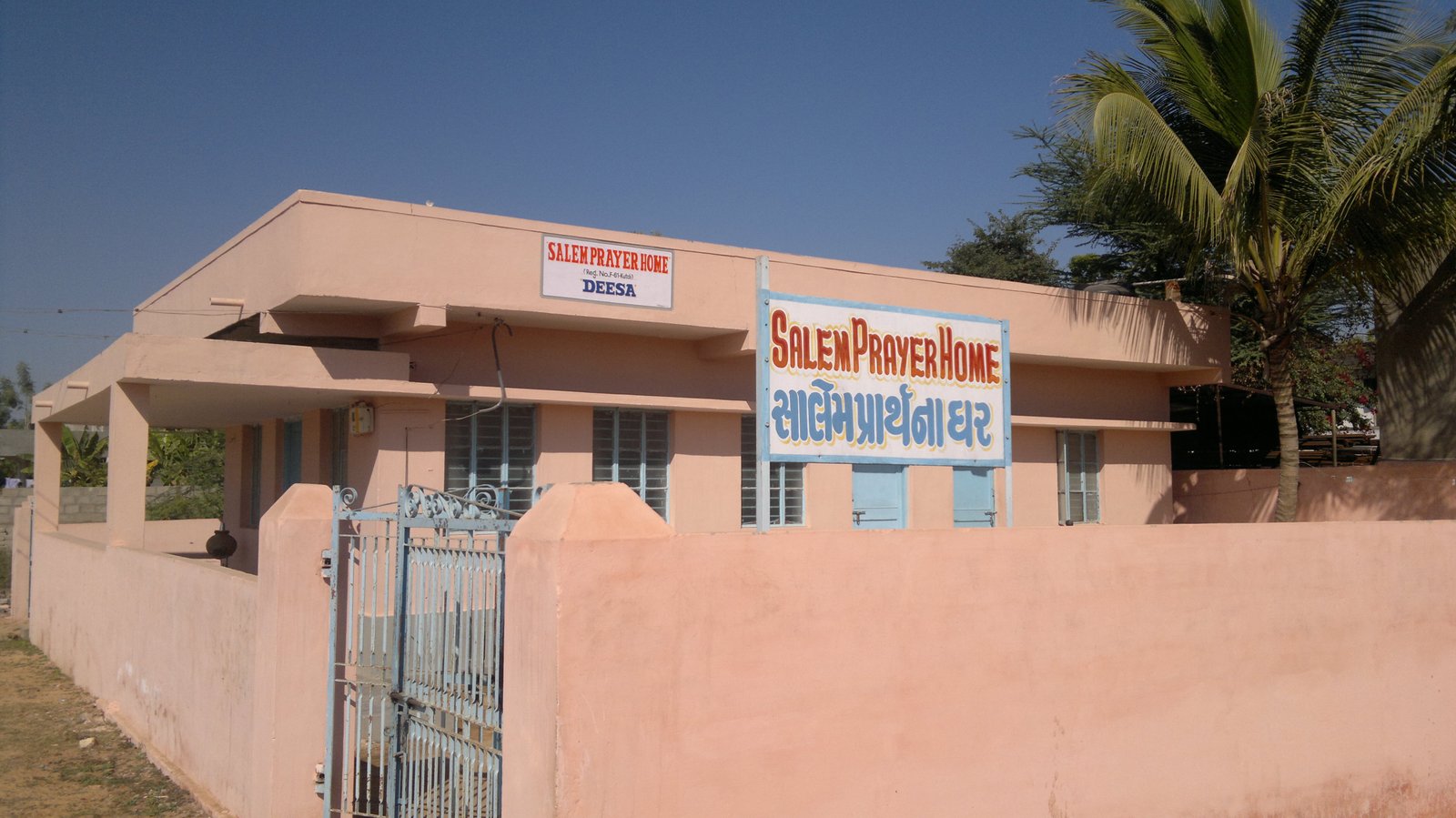 Deesa is a small town in the district of Banaskantha in North Gujarat.  In the year 1971, Pastor Stephens, alongwith Bro. K.K. Mammen (presently one of the Elders) undertook a gospel tour of the northern region of Gujarat.  When they reached Deesa, one Bro. P.V. John and his nephew gladly welcomed them to their house.  With the help of these brothers and some other christians, a small fellowship was started in Brother John's house.  God worked at this place and graciously blessed us with a permanent place for worship at Deesa.  Presently, Pastor M.J. Sabu is serving at Deesa.
Address:
"Salem Prayer Home",
Near Rahat Hotel,
Deesa Palanpur Highway,
Deesa P.O., Banaskantha District,
GUJARAT – 385 535
Mundra
Located in the Kutch district of the state of Gujarat, Mundra lies on the north shores of the Gulf of Kutch about 50 kilometers south of Anjar and 44 kilometers east the Port of Mandvi. About 60 thousand people, most of them migrants, live in the Port of Mundra.  About 10 years back a group of people started visiting Mundra for gospel meetings and distribution of tracts among the labourers working in the Port area.  Slowly and steadily,  the work of God was established in Mundra and now by the Grace of God, we have a permanent place of worship at Mundra, where about 50 people gather for worship on Sundays. Presently, Bro. Babykutty George, is serving at Mundra.
Address:
"Salem Prayer Home"
Post Box No. 24,
Plot No. 53, Vrindavan Society,
Near Shakti Nagar,
Mundra, District – Kachchh,
GUJARAT – 370 421.
&
Bhuj
Bhuj used to be the capital of Kachchh district and is still the district headquarter, the second largest district in India.  It was prominent for the reason that the place was more of a military establishment than a commercial hub.  The Indian Air Force & the Army have set up certain branches of their services in Bhuj, which brought in many people from different parts of the country for short stints in this not so homely place.
In the year 1958,  Rev. Peterjibhai, who used to reside in Bhuj, having close spiritual relationship with the Church in  Gandhidham, gave this Church an opening for spiritual activities at Bhuj.  Also, the families of Mr. Suryavanshi, Mr. Harry Valentine & Mr. John Mahida were instrumental in the early setup of this ministry at Bhuj.  Notwithstanding the contributions of this small gathering of about 5 people, these meetings did not directly help in establishing the ministry at Bhuj, but it was an herald of the opening that God had kept in store for us.
Fervent and earnest prayers were made for a distinct opening at Bhuj.  God answered the prayers and blessed one of the believers, Mr. C. G. Joy, with a job in the MES and granted us an opening to visit the families working in the Army.  Dr. Frederika Samuel, a doctor with the Bhuj Military Hospital, offered her house for conducting prayer meetings.  Mr. Phillip, employed with the Indian Air Force, was a great help in the Ministry.  With the passage of time, the church in Bhuj started growing.
God continued to bless the ministry abundantly and enabled the church to purchase a piece of land and thereafter helped to have a prayer home constructed over that land where about 70 persons gather each week for worship. Presently, Bro.  K. Masilamani, alongwith his family, is serving at Bhuj.
Address:
"Salem Prayer Home"
Bapa Dayadu Nagar,
Near New Railway Station,
BHUJ – Kachchh,
GUJARAT – 3 .
Mandvi
Mandvi is a port city located at the point where the Rukmavati River meets the Gulf of Kachchh. It is about 56 km south of the District capital, Bhuj. About 25 years back Pastor Stephens started visiting this place.  There were some nurses who showed interest in the Gospel and later on some Telugu-speaking people also joined in the worship. In 2002, a place was bought and a small building was constructed for worship. Presently, about 50 people gather for worship. Bro.  King Salem is serving at Mandvi.
Address:
"Salem Prayer Home"
6536/25, Nivedita Nagar,
Mandvi – Kachchh,
GUJARAT  – 370 465
Patan
Patan is a newly created district. For several years, Pastor Stephens with some of the believers were visiting some families at Patan and a few persons were saved and baptized. But they were either transferred or left the place. Now some people are showing interest and a new place has been hired at Patan for lodging and one of the co-workers is conducting meetings on Sundays.
Reodar –
Reodar is located in the southern part of Rajasthan. About 10 years ago, late Pastor Georgekutty started the work among the South Indians. There is a small Prayer Hall where presently about 20 persons gather every Sunday. Bro.P.J. Mathai is serving at Mt. Abu and Reodar.
Kandla
As some  of the believers, working with the Kandla Port Trust were living at Kandla, cottage prayer meetings used to be conducted in their houses.   In the year 1972 there was a great break-through among the Telugu speaking people. Bro. Ch. Issac, B. Nathaniel, Golla John were the first contacts who came to Christ at Kandla.  The Lord worked mightily among them and healed many . Presently we have a small prayer home for the people to gather & worship at Kandla, where about 25 people gather for worship every week.
Dhrangadhra
For the last 2000 years there was almost no Christian work at Dhrangadhra. Pastor Stephens along with his team used to visit this place to distribute gospel tracts. Bro. Alexander and his wife Sis. Ponnamma laboured for the Lord in this place for some time. Thereafter, for a brief period, there was no gospel work in this place. Then with the help of Bro. Babu, the gospel work was resumed at a rented house. The Lord blessed the Ministry and helped to buy a small building where presently about 15 people gather for worship each week. Bro. Gabriel is serving at this place.
Address:
"Salem Prayer Home"
Station Road, Lati Plot,
DHRANGADHRA – Surendranagar Dist.
GUJARAT – 363 310.